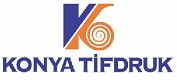 About Us
Konya Tifdruk Packaging Industry Corporated Company started to produce PVC Film in 1980. Our company is extending to produce in totally 5.000 m2 by 30.000 m2 indoor and 2.000 m2 outdoor area.
Konya Tifdruk Packaging Industry Corporated is extending its productions fan day by day in directions of our valuable customers' requests. We are acting the principle of 'Firstly Quality'. Now, our company is materialize 800 tones/year PVC Film producing, 2.000 tones/year printed BOPP packaging material, 250 tones/year single layer 9-12-14 micron aluminium printing, 250 tones/year three layer packaging material.
Our company is serving with the technology of Tifdruk Rotogravure printing. The materials of BOPP, PVC, AL, PET are served to biscuits and chocolate factories, leguminosae, spices and various medicine companies first of all, and other different sectors.
OPP+OPP, OPP+PVC, OPP+AL+LAK, OPP+CPP, PE+AL+PE, PVC+OPP, OPP+PVC+PE, PET+AL+LAK are taking part in the fan of products by laminated products.